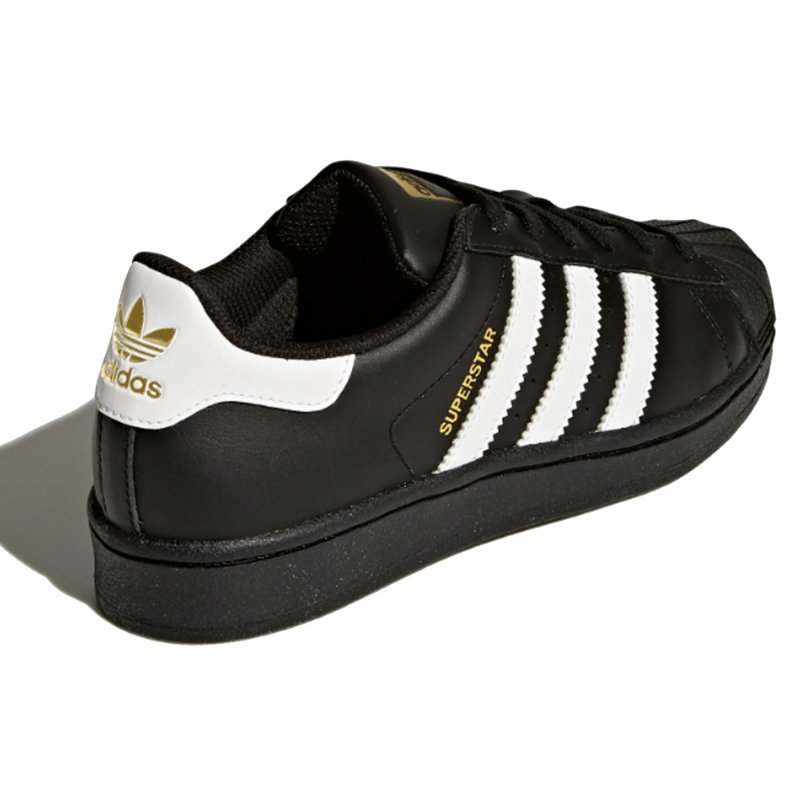 New -7 %
Adidas Superstar J (B23642)
OTHER COLORS
Περιγραφή Προϊόντος
Inspired by the iconic '70s basketball shoe. The adidas Originals Superstar Foundation downsizes the famed B-ball and hip-hop sneaker for the next generation. These shoes have a soft leather upper capped with the famous rubber shell toe for durability.
Χαρακτηριστικά
Lace closure
Full grain leather upper
Herringbone-pattern rubber outsole
Lightweight EVA midsole; Enjoy the comfort and performance of OrthoLite® sockliner
Χρώμα προϊόντος: Core Black / Footwear White / Core Black
Κωδικός προϊόντος: B23642
The following is a unisex product. See each gender's size chart below.
| EUROPE | UK | USA | CM |
| --- | --- | --- | --- |
| 36 | 3.5 | 5 | 22.1 |
| 36 2/3 | 4 | 5.5 | 22.5 |
| 37 1/3 | 4.5 | 6 | 22.9 |
| 38 | 5 | 6.5 | 23.3 |
| 38 2/3 | 5.5 | 7 | 23.8 |
| 39 1/3 | 6 | 7.5 | 24.2 |
| 40 | 6.5 | 8 | 24.6 |
| 40 2/3 | 7 | 8.5 | 25 |
| 41 1/3 | 7.5 | 9 | 25.5 |
| 42 | 8 | 9.5 | 25.9 |
| 42 2/3 | 8.5 | 10 | 26.3 |
| 43 1/3 | 9 | 10.5 | 26.7 |
| 44 | 9.5 | 11 | 27.1 |
| 44 2/3 | 10 | 11.5 | 27.6 |
| 45 1/3 | 10.5 | 12 | 28 |
| 46 | 11 | 12.5 | 28.4 |
| 46 2/3 | 11.5 | 13 | 28.8 |
| 47 1/3 | 12 | 13.5 | 29.3 |
| 48 | 12.5 | 14 | 29.7 |
| 48 2/3 | 13 | 14.5 | 30.1 |
| 49 1/3 | 13.5 | 15 | 30.5 |
| 50 | 14 | 15.5 | 31 |
| EUROPE | UK | USA | CM |
| --- | --- | --- | --- |
| 28 | 10k | 10.5k | 16.6 |
| 28.5 | 10.5k | 11k | 17 |
| 29 | 11k | 11.5 | 17.4 |
| 30 | 11.5k | 12 | 17.8 |
| 30.5 | 12k | 12.5 | 18.3 |
| 31 | 12.5k | 13 | 18.7 |
| 31.5 | 13k | 13.5 | 19.1 |
| 32 | 13.5k | 1 | 19.5 |
| 33 | 1 | 1.5 | 20 |
| 33.5 | 1.5 | 2 | 20.4 |
| 34 | 2 | 2.5 | 20.8 |
| 35 | 2.5 | 3 | 21.2 |
| 35.5 | 3 | 3.5 | 21.6 |
| 36 | 3.5 | 4 | 22.1 |
| 36 2/3 | 4 | 4.5 | 22.5 |
| 37 1/3 | 4.5 | 5 | 22.9 |
| 38 | 5 | 5.5 | 23.3 |
| 38 2/3 | 5.5 | 6 | 23.8 |
| 39 1/3 | 6 | 6.5 | 24.2 |
| 40 | 6.5 | 7 | 24.6 |